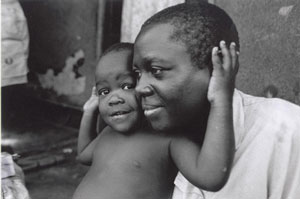 Take Me Along
(A Photo Essay by Radhika Chalasani - SIPA)
July 1998
Caroline Nantamu sits outside her one-room home in Kampala, Uganda with
her three-year-old son Joseph. Caroline tested positive for HIV when she was pregnant with him
infected by her husband, who died of AIDS-related illness a few years earlier, Caroline found out she was HIV positive when she was pregnant with her youngest child.
Hark O Death! The voyage that started without I
My Self asleep whilst the caravan left at early dawn
A birth: Upon Your face my eyes opened already in love
A face: The beginning & the end, the nonbeing & all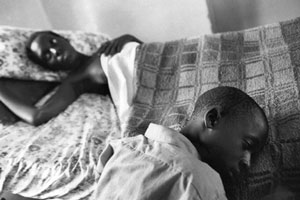 December 1998
Patrick, 12, rests his head on his mother's bed at Nsambya Hospital, where Caroline is being tested for tuberculosis, a common AIDS-related illness in developing countries
Know not where You hath came from
Bear not squinting at You left so far


You: The dove of hope blooming upon the branches of despair
I: The sable-hawk of misery hunting that lucent harbinger-bird
You: The hope bedewing every forsaken blossoming moment
I: The shifting dunes enslaved to the despair's sandy storm
December 1999
Caroline Nantamu, one week before her death.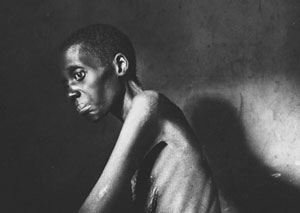 Why couldn't this trip's terse & lamented poem
Had no last verse? [1]
Why couldn't this wasted life of yours & mine
Had no last breath?
The last of this poem
The end of my voyage
And the final moment & last breath
That moment of capricious arrival
January 2000
Justine stands near her mother's grave. With Caroline Nantamu's death, Justine, Mary, Patrick and Joseph are orphaned.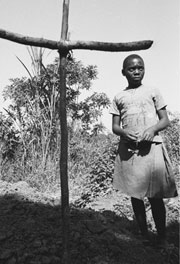 Take me along with Your Divine Self
My love I beg & my dear I do assent


Take me along
Promise to be so contend
Take me along
Promise to be so silent
Take me along
…
[1] Part of this poem is adapted from a Persian hit song of 70s in Iran sang by both Googoosh and Ebi. Below included the download for both singers:
Googoosh, Hamsafar
Ebi, Hamsafar
Dedication: For my father Ebrahim.
© 2004-2002, Dara O. Shayda