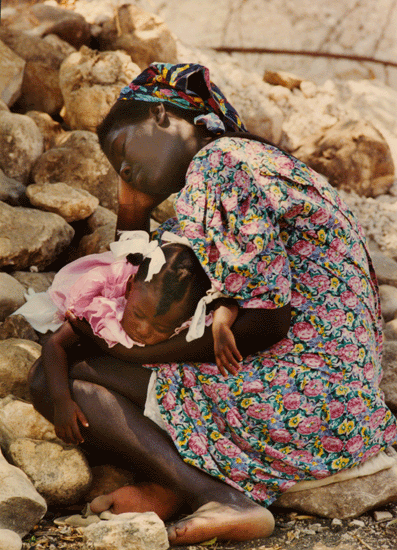 Orchards
Millions upon millions
Serpents hatched of sins of others
Infest the orchards
Underneath …
Caribbean mother
Giving birth
To a child
Wearing her noble skin
Of piety …
Of righteousness …
Her heavenly brown skin
The only Armour
Warding against the
Sinful bites
Sins she did not commit
Of serpents …
Hatched of sins of others
Her full lips
The only antidote
Fluttering in ocean breeze
Of Allah's words
Her gaze upon
Forbidden wealth of others
Desiring none for her
All for her child
Born underneath …
The infested orchards
Of sins of others
Where she bestows
Upon her newborn
The pious garment...
Of her brown skin
Introduction
These poems are self-portraits of who I am. And the black woman is my mirror to look upon and behold myself as I am.
While other poets look into the mountain peeks, forests or oceans for answers/imagery , I looked into her skin.
These poems are FOUND when my words have ended and my desire for life has extinguished.
Dara Shayda July 2002
Sunset
I Am
Child-like Hands
Un-shattered Mirror
Quilt
Turkmen Stallion
I Stand
Drunken Gardner
Silent Sage
Blade
The Tailor
Haitian Eulogy
The Ever-Scultptor
Embossed Love
The Stalactites
The Traverller
Crystalberries
The Dog!
Wallflowers
The Watchmaker
The African Mother
Father of Dust
Flower of Pradise
Silent Persian Prayers
Serene Rapids
Fragrance of Loyalty
Hold My Hand
Eyelashes's Broom
Sobbing Hawk
She
The Fallen Leaf
The Shattered Mirror
Nubian Baptism
The Chasm
The Osprey
The Quill
The Minnow
Take Me Along
The Eyeliner
You & I
The Windows
Serpent
The Harvest
The Astrolabe
Mystic Language
That Day
Wall of Pleasure
The Prophet's Pearl
Mapou Tree
Sultan of Hearts
You & I
Background
© 2004-2002, Dara O. Shayda